Wraparound Decking & Porches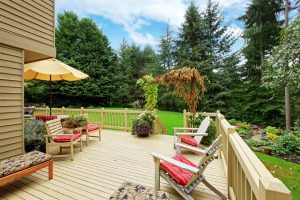 Wraparound Deck Searcy, Conway, Jacksonville, Cabot
If you're looking for a professional deck builder to construct a new wraparound deck for your home or office, look no further than the friendly pros you will connect with at Arkansas Deck Company.
We will build an outstanding wraparound deck or wraparound porch for you that will last for years to come. Whether you'd like a new cedar wraparound deck, composite wraparound decking or a beautifully crafted porch for your home our decking designers can help.
Call 501-236-4433
Quality Porch Builder in Arkansas
Picture yourself sitting on your newly built porch relaxing on the bench swing with a tall glass of lemonade as the birds sing and the breeze blows on a sunny spring day. You will love your new wraparound porch, and will be so happy as you entertain your family and friends in the comfort of your outdoor space.
Arkansas is a great place for a wraparound porch or wraparound decking. A well-built porch adds value, comfort and functionality to your living space, and will last you for years to come. Many happy memories will be provided by your new porch, and we would love to help you have those.
If we can help you with a new wraparound porch or wraparound decking project, please give us a call today at 501-236-4433