Pergola Construction in Arkansas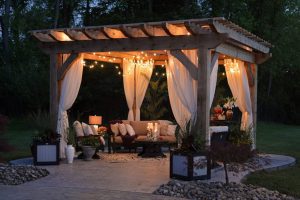 Quality Pergolas Built in Searcy, Bald Knob, Cabot, Jacksonville, Beebe
Have you ever visited a friends house and been so impressed by their outdoor setup that you found yourself thinking about it after you left? Pergolas are a very popular option for our customers in Arkansas. A well-built pergola provides a great space for you and your family to enjoy, and provide tons of opportunity for you to put your unique twist and style on your outdoor space.
Whether you're looking to construct a space to relax on your outdoor furniture, a spot to hang pretty lights, place plants, a barbecue grill, or an outdoor fireplace a pergola is a great feature to have on any landscape.
Pergola Builder Conway, Vilonia, Rosebud
Our construction pros would be happy to speak with you about your design ideas for your new pergola in Arkansas. We will build your pergola using the highest quality materials according to local codes and ordinances in addition to our high standards of safety and quality.
When you hire Arkansas Deck Company to complete a project for you, be it a pergola installation, gazebo, cedar deck, composite deck or something else, rest assured you're hiring contractors who operate according to the absolute highest standards of quality and customer service.
Would you like a new pergola on your property? We would love to give you a free quote today. Please contact our design team at 501-236-4433
You may also fill out the Free Quote form on this website and someone will be in touch with you soon.