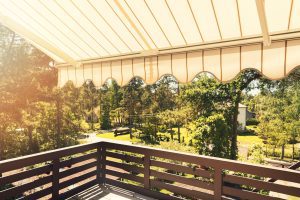 Patio Awning Professionally Installed in Arkansas
Are you looking for a local contractor to professionally install an awning over your porch or patio in Arkansas? Arkansas Deck Company would love to help you with your project. Just give our friendly contractors a call, and let them know you'd like to get a free quote on a professional awning installation for your home, office, or cabin in Arkansas.
Arkansas Deck Company uses only the highest quality manufacturers and materials in our deck awning and patio awning installation, and our contractors will work with you to determine the best type of awning for you. Aluminum awnings are a popular option in Arkansas, in addition to fabric options like laminated vinyl awnings and more.
Porch Awning Install
If you have a specific manufacturer you're familiar with or something else you'd like to try, our contractors are open to working with you to handle your project however you'd like to.
Deck Awning Installation
Contact our friendly contractors for a Free Quote at 501-236-4433 or fill out the Free Quote form on this website and one of our friendly staff will be in touch with you soon.