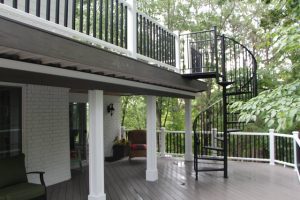 Multi-Level Decking Professionals in Arkansas
Are you in the market for a new multi-level deck in Searcy, Cabot, Jacksonville or the surrounding areas in Central Arkansas? Whether you need a new multi-storied deck for an existing structure or new construction, Arkansas Deck Company is here to serve you.
Our Deck Builders and Deck Designers have years of experience building all manner of decks all over Arkansas. We will design a deck according to your specifications making sure everything meets our rigorous safety standards in addition to local codes and ordinances.
Best Two Story Deck Builder Cabot, Jacksonville, Vilonia
Whether you're looking for a new deck built from cedar, composite decking materials, PVC decking, or vinyl deck products we can help. We will build a new deck for you that will last for years to come and is completely sturdy and well-built.
When investing is something as important to your properties value as a multi-level deck, it's important to make sure the contractor you're working with is completely qualified to perform the construction. Our deck builders have years of experience, and a licensed, bonded, and insured. We welcome requests for references, and are happy to show you that we have an extensive track record for quality and total customer satisfaction.
Outstanding Deck Professionals in Arkansas
If you'd like to make an inquiry about all the services we offer as it relates to your project, please contact our decking design team at 501-236-4433
Our professional deck builders in Arkansas are standing by to speak with you today - thank you very much for considering us for your new deck installation. We appreciate your being our customer!