Swimming Pool Deck Builders in Arkansas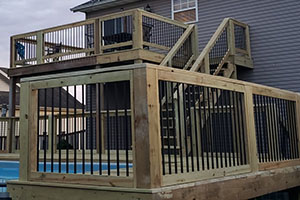 Professional Swimming Pool Deck Builder Searcy, Cabot, Bald Knob, Beebe
Do you need a new deck built around your swimming pool? Are you in need or replacing your old pool deck with a new one? Whether you're in need of a swimming pool deck for a new pool construction or if you need an old pool deck demolished, removed, and replaced, Arkansas Deck Company is here to help meet your needs.
Our professional deck builders are highly experienced deck construction experts. We pride ourselves on providing the finest deck building craftsmanship available, and use only the highest quality materials for every deck build - from deck boards, to deck railing, to decking screws and decking stairs.
Excellent Pool Deck Builder Jacksonville, Lonoke, Conway
Whether you're in the market for a cedar deck or composite deck to go around your swimming pool, we can handle it for you. Do you have a custom deck design you'd like to implement? Our deck designers love getting creative and our builders love custom deck construction. If you can dream it, we can build it, and we make sure every deck we build is up to our rigorous standards of quality and safety in addition to being built according to local safety codes and ordinances.
At Arkansas Deck Company, we place a high premium on quality. When you hire us to build a deck for you, rest assured we will build a pool deck for you that will last for years and years to come.
If we can assist you with a free quote today, please call our team at 501-236-4433
You may also fill out the free quote form on this website and one of our deck building professionals in Arkansas will get in touch with you soon.
Thank you so much for being our customer!