Composite Deck Builder in Arkansas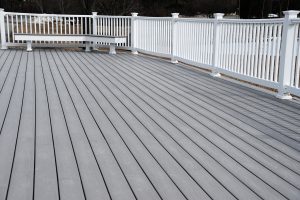 Composite Decking Built in Searcy, Judsonia, Kensett, Bald Knob
Are you looking for a decking solution that is low maintenance and will last virtually the rest of your life? Composite decking is a very popular option for customers who want a deck built they will never have to worry about again.
Composite decking a premium decking material made from polymer product that is built to last. The advantage of composite decks over traditional wooden decking is the low-maintenance, long lasting nature of the product. A composite deck is not subject to the negative effects of the weather. Composite decks are not degraded by moisture, temperature changes, bacteria, and are not subject to rot nor do composite materials attract pests.
Free quotes: 501-236-4433
While customers will pay more for composite decking material on the front end, one could argue that money is well spent in the maintenance costs and cost of deck replacement you'll pay in the future.
Composite Decks, PVC Decking, Vinyl Deck Materials
Are you looking for a reliable contractor to build a new composite deck for you in Cabot? Are you in need of a composite deck builder in Searcy or Beebe? Would you like to replace your old wooden deck with a new composite deck in Bald Knob, Judsonia, or Vilonia?
If we can help you with Composite Decking Services in Arkansas, please contact our friendly Composite Deck Contractors at 501-236-4433
Composite Deck Builder Cabot, Jacksonville, Lonoke, Conway
At Arkansas Deck Builders, we understand you have a choice when it comes to hiring a composite decking contractor in Arkansas. We also know a composite deck is a major financial investment for you and your family, and when purchasing a composite deck and contracting with a company to build it for you - you expect your new deck to last the rest of your life.
Our friendly construction professionals are experienced, reliable deck builders who pride themselves on doing a job right the first time. We know our business is built on reputation, and our reputation is only as good as our performance on our last job. That's why we are meticulous when it comes to doing a job right. When you hire us to build a new composite deck for you, you're hiring a contractor that will treat your project with the care it deserves. Our philosophy mandates that we treat your project as if we were building it for our own family.
When you hire our contractors to install composite decking for you, whether its for a traditional backyard deck, wraparound deck, covered deck, multi-level deck or something else, rest assured you're hiring the best deck builders in Arkansas. We want to thank you so much for being our customer, and we hope to hear from you soon.
Get a free quote today at 501-236-4433
You may also fill out the Free Quote form on this website, and one of our friendly deck builders and decking designers will be in touch with you soon to discuss how our composite decking solutions can work for you.