Decks Replaced in Arkansas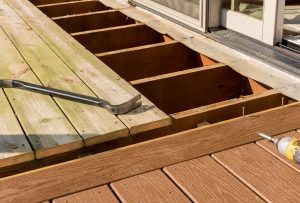 Decks Replaced in Searcy, Cabot, Jacksonville
Out with the old, in with the new! Arkansas Deck Company provides full service decking removal and replacement. Is it time to get rid of your old deck and have a new deck built? Call 501-236-4433 for a free professional assessment.
Trusted Deck Professionals in Arkansas
Wooden decks are not going to last forever. Between exposure to weather, unpredictable Arkansas temperatures, UV exposure, pests, mold, mildew and other factors that degrade wood over time, your wooden deck will eventually have to be replaced even if you maintain it properly with staining and sealing services.
An old deck can be an unsafe deck. Serious injury and even death can occur if a deck is not maintained properly and collapses. A deck must be built according to local safety codes and undergo proper deck maintenance to insure safety. If you suspect your deck may be due for replacement, give us a call today and let us look at it with our experienced eyes. Call 501-236-4433
Decking Replacements Bald Knob, Vilonia, Conway
If you're in need of a deck replacement, we will remove your old deck and replace it with a new one. We offer both full decking replacement and partial decking replacements based upon the needs of the customer. It's easiest to determine what's needed after a deck inspection which we will provide to you free of charge. We will walk the deck with you, discuss our findings, point out any areas of concern, and give you our recommendation based upon our findings.
If you suspect it might be time for a deck replacement, please do yourself a favor and call us at 501-236-4433
It is very important you keep yourself and your loved ones safe. We would love to help you make sure you have a sturdy deck built to code that's going to last for years to come.